Kiwifruit Summer Pruning Season
After a long winter our kiwifruit vines are back and ready to grow!
Are you ready to be part of New Zealand's largest industries?
We are looking for people like you to help ensuring our kiwifruit vines grow healthy and produce yummy fruits!
Join us for the Kiwifruit Summer Pruning Season!
Join the Kiwifruit Summer Pruning Season!
What is the Kiwifruit Summer Pruning?
After a long cold winter, where the Kiwifruit vines were almost 'dormant', now they start to flourish again.
Leaves come back, and with it flower buds – that will become flowers earlier next year.
Summer pruning work basically means making sure the plant is growing how it should, removing blank shoots, training canes into strings, removing bad or diseased flower buds, and pruning male vines to ensure our soon-to-be flowers from the female vines receive enough sun light.
This is how an orchard is looking now
Why is the Summer Pruning important?
During the winter pruning, the job was to basically arrange the kiwifruit vines so when they start to grow, they would grow in the right direction.
In the summer pruning, this job continues, but now with the vines already showing actual signs of the growth direction.
Summer pruning job is essential to guarantee all vines are growing in the right direction and there is no diseased in any part of the plant. Removing bad shaped flower buds also helps to make the good buds grow faster and bigger, generating better flowers and in the future sweeter fruits!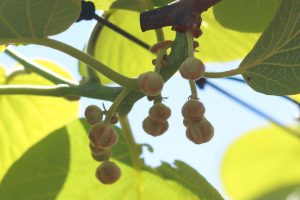 This is how a flower bud looks like
How to do Summer Pruning?
Summer pruning is a bit technical, but not as much as winter pruning.
On your first day at work we will give you all the guidelines of what should be pruned, trimmed, or removed. You will also learn how to identify bad flower buds, how tipping works, and all the ins and outs of summer pruning.
So don't worry, you will soon realise it's not nearly as complicated as it looks!
Operating since 2011, we pride ourselves to be one of the longest living contracting services provider in the Bay of Plenty.
At Garcia, we value our people. Our team is made of people from all around the world, and diversity is part of who we are.
We do our best to deliver a high standard service to our customers while maintaining our compliance, legal obligations and strong Health & Safety measures to provide the best work environment to our staff.
With Garcia Contracting you can have the peace of mind you will get paid exactly what we agree upon signing the contract, all following New Zealand's legislation. We believe all employee's legal rights should be respected, and we are proud to say we make this our standard process.
We provide full training, industry standard rates and immediate start for all those hard-workers out there who are looking forward to join the kiwifruit industry in 2021!
Frequently Asked Questions
Please fill the form below and one of our team members will contact you as soon as possible.
We look forward to working with you this season!